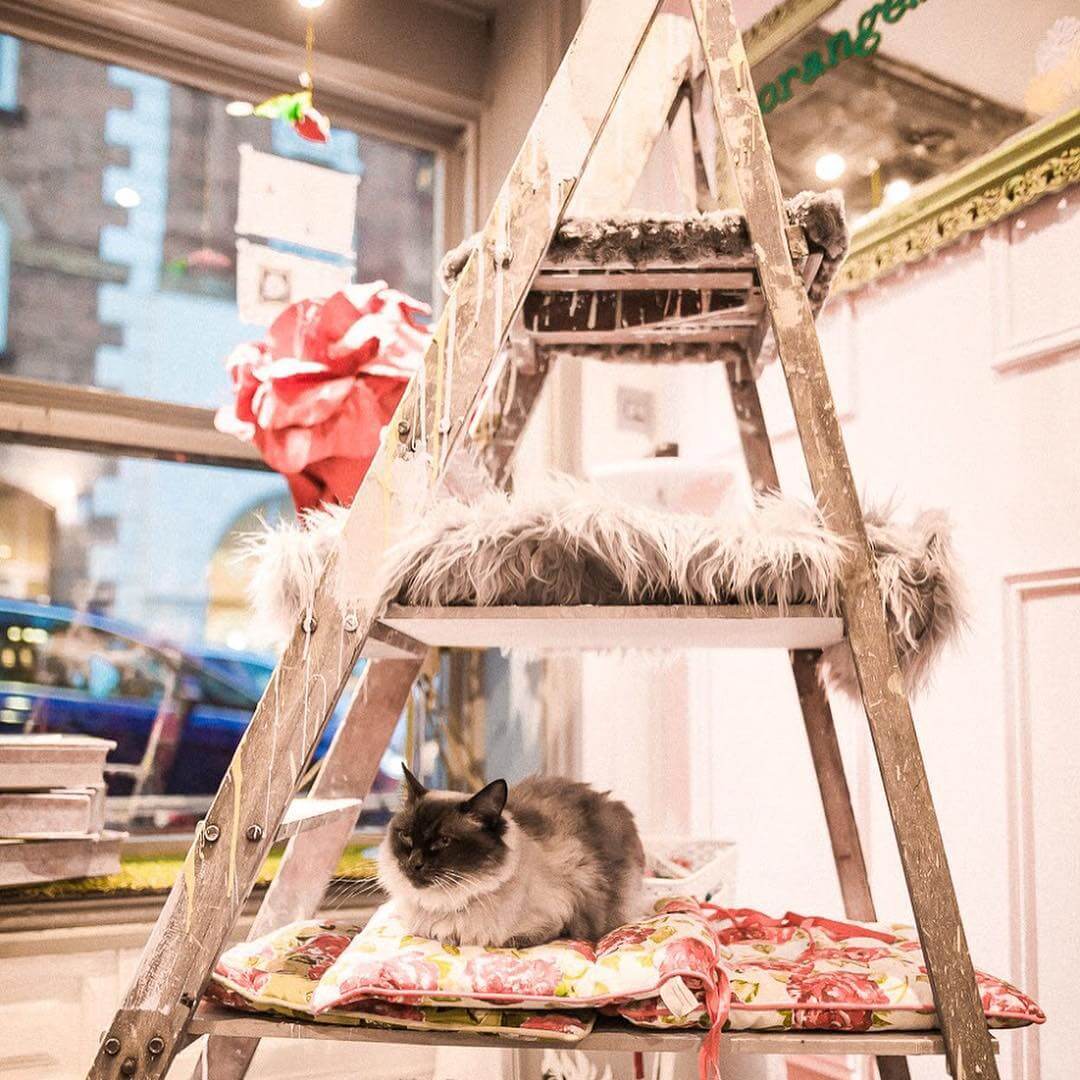 Our fabulous
Feline cast
Meet our resident superstar rescue cats!
Our headline performers
We have lots of rescue cats calling the Cafe home, however we do have three very special (and very fluffy) permanent residents who'd love to meet you!
The Grumpy One
Bottom
Bottom is a long haired exotic Persian and joined the Shakespaw cast at just 8 months old when his forever home fell through. He was an unwanted gift from a boyfriend to a girlfriend, how could you not want that squishy face you ask? I have no idea. He is a permanent resident at Shakespaw and a firm favourite with guests. Bottom thinks he is a human and can be found sitting on customers tables and joining in the conversation. We don't have the heart to tell him that he's a cat.
Likes: Chin rubs, high pitched squeals, Jazz Flute and lying in the middle of the floor.
Dislikes: Brushing. heights and being called chunky.
Mr Floofy Pants
Hamlet
Hamlet is our all white Himalayan Persian with bright blue button eyes. He and his brother Horatio came to live at Shakespaw in the summer of 2019 because his owner moved overseas and they are therefore permanent residents of Shakespaw. Hamlet is a snuggle monster and is best known for lying on his back whilst receiving fusses from various humans. His favourite toy is the silver crinkly ball with which he likes to play fetch. He has the softest fur and the most majestic tail.
Likes: Belly rubs, being brushed, Playing Fetch.
Dislikes: Loud noises, sudden movements, loud shoes.
Horay ray 
Horatio
Horatio is Hamlets brother and is also a permanent resident at Shakespaw. He is super friendly and has a kind nature. One of the reasons for keeping the Persians as permanent residents is that they are so friendly when they meet the new rescue cats. As a result they make them feel welcome and they also teach the other cats how to cat. As a Himalayan Persian Horatio is similarly very high maintenance and has recently got a Lion cut to help his owner keep up with his grooming.
Likes: Chin Rubs, Prancing around, making friends.
Dislikes: Looking untidy, being called Chewbacca, too much attentions.
The Supporting Cast
There's plenty of other feline characters around too! We work with Peppers Pet rescue to offer shelter and a foster home to as many rescue cats we can, therefore you never know who might be visiting!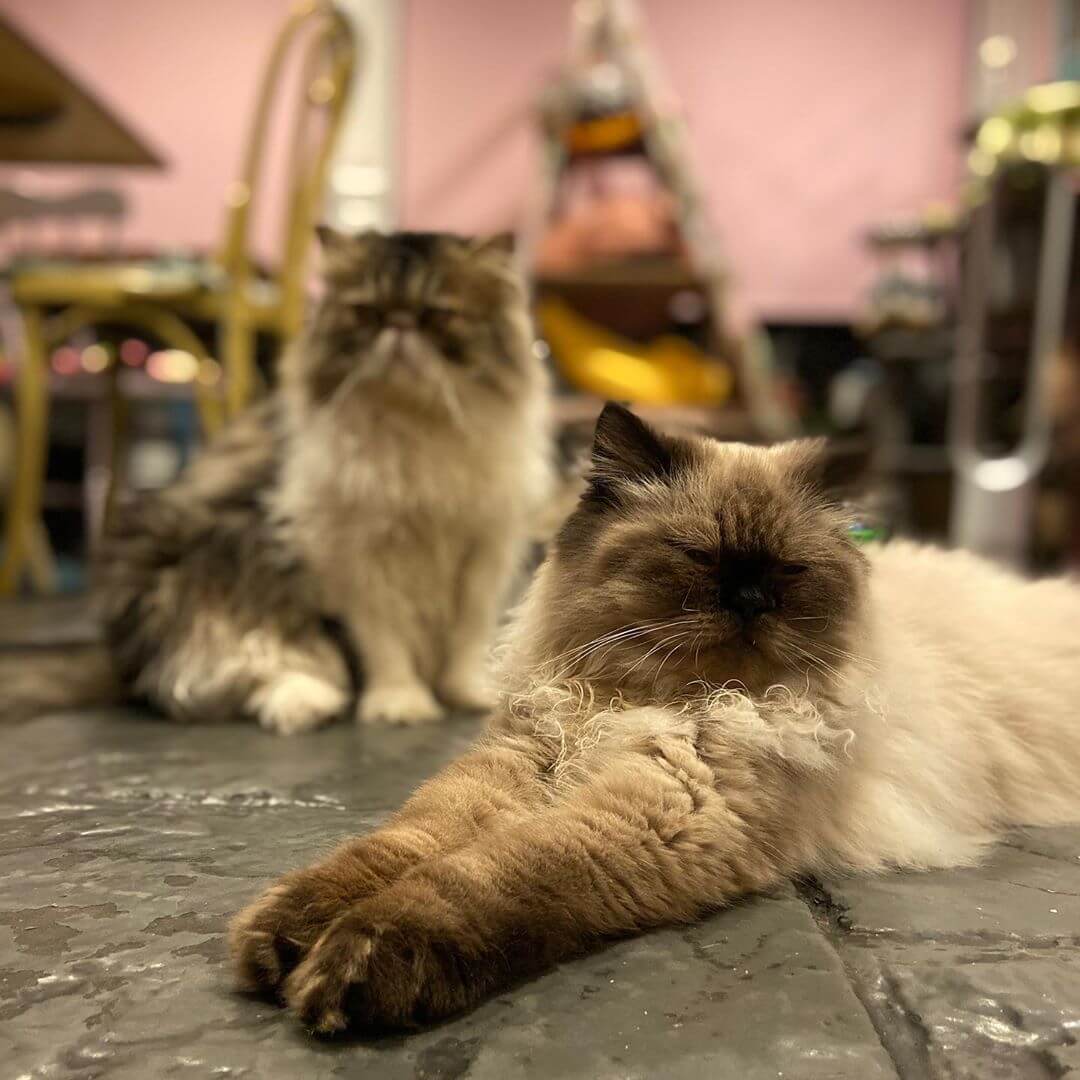 Help us
Make a Difference
About Our Cats
First of all we do this simply because we love Cats. All our work is under strict conditions from Stratford District Council to ensure both safety and hygiene for our guests of both human and feline persuasion.
We work with Peppers Pet Rescue to help house, home and socialise many of the needy kitties that come into their care and by doing so find them a forever home whenever we can.
All cats in the cafe have been vet checked, vaccinated, neutered and are (at minimum) friendly around people. Please do be aware however, that this is their home, and they are not here as "entertainment". Above all our house rules are strictly enforced for their welfare and happiness.
Having said that, they generally are a very inquisitive, friendly and interactive bunch, so why not come and meet them in the fur?
Adopt a cat
We work proudly in association with Peppers Pet Rescue, for information on adoptions please visit their Facebook page.
Alternatively send us a message below.